Modern cars are designed using advanced technology for comfort & reliability. But the fact is that no matter how reliable they are, many times, the cars would still require costly repairs or replacements. Nobody would want to have a tough time fixing the car, especially after the basic warranty has lapsed. The only solution to these issues is extended warranties, a repair coverage after the expiry of the manufacturer's warranty. But before purchasing the warranty, it is essential to know the types of extended warranties and what they cover.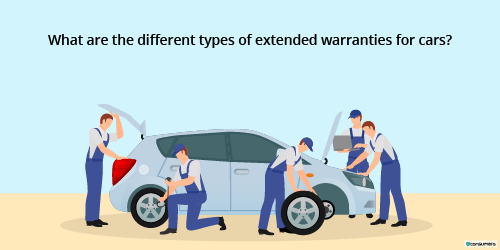 Extended warranties are of two types: one offered by the carmakers (also known as original equipment manufacturers or OEMs) and another aftermarket warranties provided by third-parties.
Manufacturer Warranties
An extended warranty provided by an OEM will usually offer coverage similar to the new car, extending the coverage duration and the allotted mileage. Some warranty providers may also give some extra benefits like roadside assistance. This type of warranty may differ in what they cover. Ensure that you are aware of the vehicle parts it covers before signing the policy.
For instance, some manufacturers may provide an extension of up to 3 years or 1,00,000 km, and others an extension of up to 3 years, covering 3rd year or 80,000 km.
The OEM extended warranty comes with or without a deductible. The higher the deductible, the lower the warranty price. Generally, the deductibles are minimal, rarely exceeding $200.
Third-Party Warranties
The majority of the third party or so-called aftermarket warranties provide similar coverage as OEM warranties. However, unlike OEM warranties, some this type of warranties may have exclusions, limitations, and requirements. Some third-party warranties may require you to pay for a replacement or repair and file a claim for reimbursement. This process isn't quick and may take several months.
The third-party warranties cost less than the OEM warranties. If you are considering buying a third-party warranty, read the coverage details before agreeing to its terms & conditions.
Parts Covered
Below we have listed some parts covered under these warranties. However, note that the parts covered may vary depending on OEM & third-party terms & conditions.
Internal Components
Crankshaft & pulley, oil pump, piston & rings, connecting rods, inlet & exhaust valves, and gudgeon pins. It also includes cylinder block & cylinder head, rocker arm, springs & guides, camshaft, and cylinder head gasket.
Parts Of A Fuel System
Mechanical & electrical fuel pumps, fuel accumulator, fuel distributor, injectors, airflow meter, deceleration valve, warm-up regulator, auxiliary air regulator, cold start valve, a pressure damper, ECU and throttle body.
Components In The Manual Gearbox
Gears, hubs, shafts, and rings. In the automatics, it covers oil pump, brake bands, bearings & bushes, drive plate, valve, and transmission gears.
Electrical Components
Rectifier, starter motor & solenoid switch, ignition coil, alternator, regulator, cooling fan motor, thermostat switch, power window motors, speedometer, ignition switch, relay, oil pressure switch, temperature & fuel gauge.
Parts Of Suspension And Steering System
Steering column, rack and pinion, power steering pump, and steering box.
The Braking System
Brake booster, master cylinder, and vacuum pump.
Air Conditioning And Cooling System
Evaporator reservoir, compressor, condenser, heater core, thermostat, switch & fan motor, and AC switch.
Diesel Injection System Parts
Injectors, injection pump, electromagnetic cut-off, and glow plugs.
Oil Seal Parts
Auxiliary shaft oil seal, crankshaft seal, camshaft oil seal, gearbox oil seal & drive shaft seal.
However, there are a few components that aren't covered under the extended warranty. These include regular wear & tear spares such as bulbs, batteries, hoses, brake linings, tires, belts, spark plugs, and filters.
To know more about the parts that are covered & aren't visit the warranty provider's website or talk to the third party dealers.