Buying a new car is a huge investment and it doubles when you get a lot of repairs to work on it. Most of the time, car damage can leave you financially ruined. That is why manufacturers come with a basic warranty to cover damages and ease the financial burden of their consumers. But such warranties only last for maybe about 3 years or 36,000 miles. So what happens when consumers incur damages after this warranty period? Here's where an extended auto warranty comes into the picture and proves to be a lifesaver. This post will guide you through the advantages and disadvantages of extended auto warranties.
Extended auto warranty companies' main job is to provide coverage for your vehicle in case of damage even after the expiry of the original warranty. They offer financial assistance through repairs and replacements. This is a great way to minimize the otherwise heavy expenditure. But this industry does have its own drawbacks. So, here's a list of pros and cons to consider before you buy an extended auto warranty.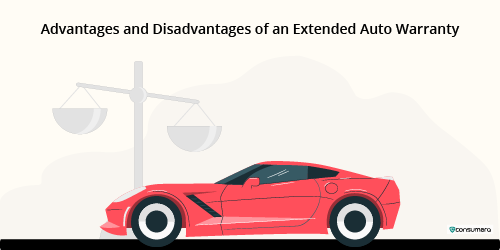 Advantages
Costly Repairs And Expensive Technologies Are Taken Care Of
Modern cars are built with the latest technologies which are quite expensive and when they fail, the repairs get quite expensive too. So, one of the main reasons why extended auto warranties are purchased is to cover expensive parts and components of vehicles that are prone to damage.
No Need To Worry About Paperwork And Payment
When car owners opt to get extended auto warranties through a dealership that is sponsored by their auto manufacturer, the warranty ends up being expensive, but it's worth it. Since the owner has to pay an extra amount, the dealership handles all the paperwork and the auto manufacturer pays for the services provided by the dealership.
Provides Coverage Beyond Your Manufacturer's Warranty
With an extended auto warranty, you can get coverage on things that are not insured by your manufacturers' warranty. For example, some extended warranty companies allow you to avail 24-hour roadside assistance which wouldn't have been possible with the basic warranty provided by your auto manufacturer. Also, your basic warranty provides coverage only for a certain mileage and time period, and it is after this expiry that the extended auto warranty starts providing coverage.
You Won't Be Stressed Out About A Car Breakdown
There is an increased financial burden when your vehicle has a disastrous breakdown. The pressure to fix it quickly, search for genuine parts, and the thought of spending a lot will rob your peace of mind. To avoid such struggles, protect yourself with an extended auto warranty.
It's even more convenient if the warranty comes from the manufacturer. The warranty company will provide genuine and specific parts according to the make and model of your car. In addition to that, you'll have wider coverage and reduced expenses on repairs and replacements.
Disadvantages
Not All Repairs Are Covered
One must be very careful when choosing an extended auto warranty company since not all their terms and conditions prove favorable to you. There are certain things that the company will provide coverage on and certain things that they won't.
An exclusion list provides information about the parts and components that are covered and not covered. So, read carefully and choose a warranty plan that suits your requirements.
They May Go Unused
Warranties are useful only when the damage has occurred. If your car hasn't been subjected to any kind of damage covered by the warranty plan, then it might not come to any use at all to you. In such times, it's only the extended warranty company that profits from it.
They Can Be Very Expensive
Paying monthly premiums adds to your expenses. Moreover, consumers are required to pay deductibles with every repair though the cost of the extended warranty will be lesser than the actual expenses incurred to fix damages. So, this can be a loss to you.
Also, an extended warranty doesn't cover failure due to a lack of maintenance like oiling and tire change. So, you'll have to shell out money on these regular expenses apart from the monthly premiums. All these factors put together can make an extended auto warranty quite expensive.
Whether or not you require an extended auto warranty primarily depends upon the duration of your car usage, the condition of your car, and your financial capabilities. Sometimes an extended warranty is not worth it at all, but you never know at what time and hour it could be indispensable to you. So, analyze every aspect before you make your big decision.