Whether you own a new car or old, you want it to be in optimal condition always. Your vehicle's good condition makes sure you have a hassle-free experience for long drives or your daily route to work. To keep your car in tip-top condition, extended auto warranties are your best bet. But how to buy an extended auto warranty? And what aspects should you consider before buying one?
This detailed guide will help car owners like you understand how to buy an extended auto warranty and lots more. But first, you must understand the difference between an extended warranty and a manufacturer's warranty.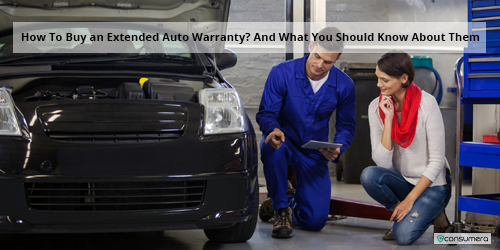 The Distinction Between a Manufactures Warranty And an Extended Auto Warranty
Car owners must understand the variation between the two so that there are no misunderstandings when making a purchase. The table below will help you understand the differences.
| | |
| --- | --- |
| Manufacturers' Warranty | Extended Auto Warranty |
| This warranty comes with the purchase of your new car | You can purchase this warranty after your manufactures' warranty expires |
| Only specific components of the vehicle get covered | The scope of coverage is quite broad and covers the essential parts of your vehicle |
| In most instances, this warranty cannot get extended | If you are happy with the services, you may extend your policy after its set duration is complete |
An extended auto warranty can be beneficial if you want to protect your vehicle in the long run. Plus, extended warranties come with many other benefits and assure you peace of mind knowing that your car is safe for the future. The below section will help you understand how to buy these warranties.
How To Buy an Extended Auto Warranty?
You can either buy this warranty from a car dealership or even get a free quote online. You need to take the call on what is the most convenient option to buy the warranty. Note that today, most car owners prefer to receive a quote online as it is timely, and details of coverage aspects can be found online itself.
Once you have purchased your warranty and it's up and running, you can go to any authorized service center to repair your vehicle. All you need to do is show your coverage card to the repair technician, and you are good to go.
What Should you Know About Extended Auto Warranties?
Extended auto warranties can be a real boon for car owners. However, you must know more about these warranties to get the most out of them. We have mentioned a few essential pointers that you should know about these warranties while purchasing one and using it.
Your extended auto warranty's service contract contains essential details on what parts get covered in your policy
A deductible fee is an amount charged when you take your car for repairs
Depending on the company you choose, a deductible fee may be charged
Read the fine print of your policy to check for whether a deductible fee is applicable or not
Understand your vehicle and opt for a plan that fits the requirements
Don't fall for any extended warranty con, carefully research companies, and make the right choice
Top Extended Auto Warranty Companies
There are several extended auto warranty companies in the market that offer customers different plans and coverage. We have listed out some of the top companies and their features that make them a good buy.
Endurance
The company is a popular choice among vehicle owners in the country. Endurance also provides a range of incredible plans to suit your vehicle's needs. Also, by chance, if customers are not happy with the company's services, you could opt for a 30- day money-back guarantee. Some of the uniques features of this company's offering are as follows:
Affiliated repair centers across the country
Each plan comes with an Endurance Elite Membership
If a specific component is not covered and needs repairs, Endurance facilitate the process
CarShield
The organization is committed to providing car owners with excellent service at any time. Car Shield makes sure all the plans they offer customers don't burn a deep hole in your pocket. Having served more than one million customers, opting for this company's services is worth it. Choosing a Car Shield warranty makes sure you qualify for the following benefits:
24/7 roadside assistance
Choose a mechanic of your choice
Flexibility in payment plans
Carchex
Being in the business for 12 years, the company has provided services for several customers across the country. Opting for a Carchex plan entitles you to several of the company's benefits such as roadside assistance and rental car reimbursement. Some of the other advantages of the company's services are as follows:
Pocket-friendly plans
Application to helps you find a repair center close to you
30- day money-back guarantee
If you would like to opt for any company's services, make sure to compare plans before making your final choice. Comparing plans help you understand in greater detail which plan will suit your individual needs.
Benefits of an Extended Auto Warranty
Car owners must understand that there are many advantages that come with extended auto warranties. The below-mentioned pointers will help you know these advantages in greater detail.
Helps you save money as repairing components with an extended warranty is an expensive prospect
Extended warranty companies offer different plans. You can choose a plan that best suits your needs
Most top extended warranty companies have authorized service centers across the country, making it easy for you to get your vehicle fixed anywhere
The peace of mind knowing that your car gets protected for the future
Conclusion
An extended auto warranty policy makes sure to keep your car running for several miles in the future. Plus, you get several other benefits if you opt for the right plan of your choice. So don't hesitate any longer. Go ahead and opt for your free quote today, from Consumera today.