Picture this: You have a little car trouble that you don't see costing you much out-of-pocket because your auto warranty is meant to cover it. However, when you take your car to be serviced, the verdict comes back that you have to foot the bill yourself! To help you avoid this nightmare of a scenario especially when you have shelled out extra bucks for the service contract, we will outline what would void a car warranty.
Many a time, you don't even know what could have voided your car warranty; it was totally unintentional. These service contracts provide you with discounted repairs and replacements for some problems that crop up over the lifetime of your vehicle due to age. Knowing the simple car care factors you should watch out for can help you make the best of your extended auto warranty plan.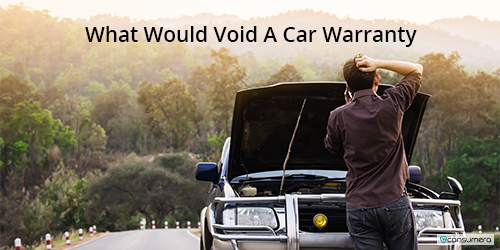 Things That Would Void A Car Warranty
Some of things that would void your car warranty include:
Maintenance issues
Extended auto warranties don't cover any malfunction arising from poor maintenance. If you fail to carry out the routine maintenance tasks as per the manufacturer's instructions, the car warranty provider may deny your claim.
Common improper maintenance problems people face are:
Using the wrong lubricating fluid: Not using the correct kind of oil can cause failure of rod and main bearings among other issues. You have to use oils only from acceptable fluid makers as specified by your manufacturers.
Not performing regular filter, oil, tyre, brake etc changes: Not only should these be conducted as often as specified but it would be best to get them done at service centers which save records.
Not getting regular inspections: They are valuable in finding out how well your car is performing and being maintained. Car inspections not only certify the state of your vehicle but also tell you how many miles need to be driven before an oil change and warn you about the safety.
Not getting timely belt replacements: This is necessary as you cannot drive a car that has a worn-out belt.
Losing receipts
Many people don't return to their car dealership after purchasing the car to get routine checks and maintenance work. Indeed, third-party service centers such as those associated with your extended car warranty company can offer better deals with the original parts.
However, when you file claims it becomes all the more important to save receipts from such work done to prove that the services were made according to the mileage intervals as specified by the carmaker and that the right oil and filters were used.
Aftermarket Modifications
Once a common reason for voiding a car warranty, the Magnusson-Moss Warranty Act, 1975 made it possible to get vehicle modifications and successfully claim the warranty but as long as they did not result in the damage in question. If you want to install upgrades and modifications, ensure that they will not affect any of the parts covered by the extended auto warranty.
Such activities should only be performed by certified personnel in approved body shops. One common example of warranty-voiding by aftermarket modifications is the installation of turbochargers that send so much power to the transmission that it fails. The transmission repair or replacement would not be covered by the auto warranty in this case.
Natural Disaster Damage
A car warranty is meant to pay for parts and labor costs to fix certain types of mechanical breakdowns. These could be malfunctions due to manufacturing defects or certain defective car parts. A car warranty does not cover matters coming under the purview of car insurance.
If your car fails after having been through a storm or if there is damage resulting from an accident, your auto warranty will not apply.
Towing Badly
Using your vehicle to tow other vehicles that it wasn't designed to withstand can result in damage that won't be covered by the extended auto warranty. Most regular cars do not have the specs needed to tow other vehicles like increased cooling system capacity, reinforced rear frame area to support the hitch receiver, strengthened suspension to handle the weight, heavy-duty brakes to handle the increased load, along with special wiring to power the trailer lighting.
Consequently towing a vehicle in such a car can cause shorts, damage the wiring, transmission overload, ruin the brake lines, etc. Extended auto warranties usually don't cover parts that wear out regularly so these would add to the list.
Reckless Driving
Auto warranty companies deny claims for issues resulting from the use of the car outside of its normal and permissible functions. Racing, reckless driving etc. put extra strain on the vehicle wearing it out faster. Reckless driving also includes off-roading or overloading the vehicle in addition to 'wanton disregard' such as breaking traffic rules.
Manufacturers may also maintain records of racing events and may be able to access such images in the public domain to deny warranty claims for damages arising from reckless driving.
Salvage Titles
If a car has been overhauled after a severe accident or any other situation where it was totally mangled, it will be issued a salvage title after restoration. But a car that has been salvaged will no longer be eligible for auto warranty coverage as the pre-existing conditions clause kicks in.
Therefore you should be careful when considering the purchase of a pre-owned car and check its history to find out whether it has a salvage title.
Tampering With Odometer And Other Misuses
Auto warranties apply to vehicles within a certain mileage limit. Thus it goes to follow that any tampering with the vehicle's odometer will nullify the coverage. Tampering with the odometer also hinders your ability to know when to get your vehicle serviced with oil change etc.
The definition of misuse is often left up to the discretion of the car warranty company. Hence it is of utmost importance that you should carefully read your contract to understand thoroughly what would constitute misuse.
You should also remember to leverage your manufacturer's warranty if you have it in addition to your extended auto warranty. Issues that can be covered by the OEM warranty may not be covered by the extended warranty.
Being mindful of the above factors will not only diminish the chances of your auto warranty becoming void but will also help you get the most out of your car and help you save money as well as reduce your carbon footprint.