Orkin vs. Terminix: Which of the two giants to choose?
Published Date: May 20, 2022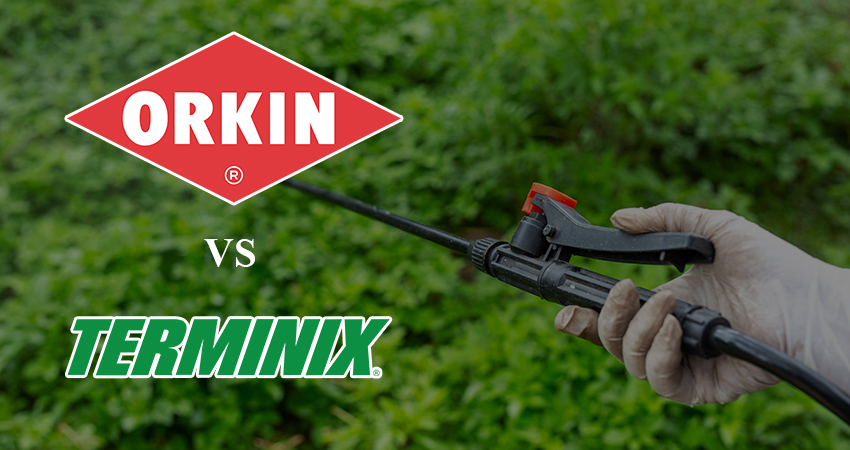 Both Orkin and Terminix are great choices if you search for companies providing a combination of quality pest control services with a long track record. However, each home is different and requires specific pest control services. So, which company is best-suited to eradicate pests from your home? This comprehensive Orkin vs Terminix comparison will assist you in determining the ideal pest control company for your house or business.
Quick Comparison At A Glance
| | | |
| --- | --- | --- |
| | Orkin | Terminix |
| Standout Feature | 120+ Years Of Service | Offers Wildlife Eradication |
| BBB Rating | A+ * | C+ |
| Pricing (Monthly) | $45 | $33 |
| Year of establishment | 1901 | 1927 |
| States Covered | 47 | 47 |
| 24/7 Availability | Yes | Yes |
| Online Chat | No | Yes |
*You may find different ratings for Orkin since it has many pages on BBB as per its locations.
About Orkin Pest Control
Headquartered in Atlanta, Orkin is the country's largest and oldest pest control company . It has been in operation for almost 120 years. One of the reasons for the company's stellar reputation is its rigorous training program that each technician undergoes before starting work. 
Orkin also provides gutter guards and lawn treatment (only in Florida) to combat weeds, grass pests, and fungal diseases.
If you want to explore all the services offered by Orkin, read our comprehensive Orkin pest control review. 
About Terminix Pest Control
Terminix is best known for its termite treatment; its comprehensive pest management products are now the admiration of lesser-known pest control companies worldwide. The company has headquarters in Memphis and over 90 years of expertise. 
Over the time, Terminix has developed cutting-edge procedures to rapidly and effectively rid consumers of undesirable pests. It also provides a six-month warranty on all of its bed bug treatments, which is practically unheard of in the business. 
If you want to read more about the services and treatments offered by Terminix, read our detailed Terminix pest control review.
Orkin vs. Terminix Pest Coverage
Take look at this table for a detailed information on Orkin and Terminix's coverage:
| | | |
| --- | --- | --- |
| Pests Treated | Orkin | Terminix |
| Ants | ✔ | ✔ |
| Bed bugs | ✔ | ✔ |
| Beetles | ✔ | – |
| Centipedes & millipedes | ✔ | ✔ |
| Carpenter ants | ✔ | – |
| Cockroaches | ✔ | ✔ |
| Crickets | ✔ | ✔ |
| Fleas | ✔ | – |
| Earwigs | ✔ | ✔ |
| Wildlife (raccoons, opossums, etc) | ✔ | ✔ |
| Ticks | ✔ | ✔ |
| Termites | ✔ | ✔ |
| Stink bugs | ✔ | – |
| Stinging pests (bees, wasps, etc) | ✔ | – |
| Scorpions | – | ✔ |
| Silverfish | ✔ | ✔ |
| Spiders | ✔ | ✔ |
| Flies | ✔ | – |
| Mites | ✔ | – |
| Mosquitoes | ✔ | ✔ |
| Moths | ✔ | ✔ |
| Rodents (mice, rats, etc) | ✔ | ✔ |
Want multiple pests dealt with at one go? Find out if it's possible by requesting a free quote!
Orkin vs. Terminix Plans
Orkin and Terminix provide essential pest treatment and termite and bed bug extermination. Other mosquito and tick programs are also available with these companies. Both Orkin and Terminix provide service guarantees such as a 30-day money–back guarantee and more when you sign up with them.
Here, we have elaborated the plans and treatments provided by each company. Have a look: 
Orkin Plans and Treatments
Orkin protects against common pests, including moths, fleas, ants, scorpions, mice, spiders, crickets, hornets, silverfish, cockroaches, centipedes, earwigs, etc. 
If you enquire separately, Orkin may include other pest treatments to your contract. 
The detailed treatment plans are as follows:
Termite Control
To control termites, Orkin employs Termidor liquid treatments, dry foam, Orkinfoam, and Sentricon bait and monitoring. If termites reappear, Orkin's Re-Treatment Program ensures that they will be exterminated at no additional expense.
Bed Bug Removal
The certified bed-bug professionals will inspect the rooms along with the infested ones. After the treatment, specialists will pay follow-up visits to ensure that bed bugs won't infest again. 
Mosquito service
Orkin protects against several diseases by using a combination of medications, sometimes chemical controls, to disrupt mosquito life cycles.
Tick Control
Before formulating a treatment plan and doing follow-up visits, Orkin inspects optimal tick hiding spots such as long grass and highly forested regions.
Mice Treatment
To treat mice, specialists will run a few tests to identify places where mice are capable of making themselves a home. After that, they will suggest a suitable treatment plan for your home.
Terminix Plans and Treatments
Terminix also offers protection against several pests. We have provided a detailed analysis of specific pest coverage below. Have a look:
Termite Control
Terminix offers customized termite treatment solutions to cater to your unique needs.
Bed Bug Removal
Terminix will conduct a thorough bed bug analysis, might install a bed bug interceptor device, and will do follow-ups after the treatment.
Mosquito service
They provide one-time and natural mosquito services. The latter is only for those living in NY and VT.
Tick Control
After a thorough inspection of your yard, Terminix makes recommendations to make your yard less appealing to ticks and applies liquid and granular treatments to eliminate existing ticks and create a protective barrier.
Mice Treatment
A specialist will conduct a thorough search in your home to find mice or rats to remove them. After the procedure, the entry points will be sealed.
When it comes to pest control services, both companies cover a range of pests in their standard contract. But, other than the usual pest services, Orkin stands out as they offer resources for customers interested in treating exotic pests or insects.
Get in-depth details of these plans by requesting a quote!
Compare Orkin vs. Terminix Prices
The overall cost of your plan will be determined by the type of pest you have, the severity of your infestations, the size and location of your property, and the number of individual treatments you'll require.
Both Orkin and Terminix are quality companies, but the latter is often less expensive. Orkin's basic preventative plan costs $45.50 per month, whereas a similar plan by Terminix comes at $33.
With regards to the payment options, pest control companies provide several ways to do that. You can opt to pay monthly, bi-monthly, quarterly, or annually. There can be a change in these options; for which we recommend reading the contract carefully.
Wondering if these pest control services come with a discount or backed by a guarantee? Find out by requesting a quote!
Key Details 
| | | |
| --- | --- | --- |
| Key-Details | Orkin | Terminix |
| Residential Pest Control | Yes | Yes |
| Commercial Pest Control  | Yes | Yes |
| One-Time Treatment Available  | Yes | Yes |
| Preventive Services | Yes | Yes |
| Eco-Friendliness | Yes | Yes |
| Satisfaction Guarantee  | 30-Days | 30-Days |
Orkin vs. Terminix: Locations
Both Orkin and Terminix are available in 47 different states. Orkin does not provide Alaska, South Dakota, and Wyoming services.Terminix is accessible everywhere except in North Dakota, South Dakota, and Alaska.
What Do Customers Think?
Both the companies, Orkin and Terminix have received mixed reviews on the internet. Orkin has many pages across the review platforms for all branches but holds a five-star rating on most of them. The BBB ratings for Orkin vary from page to page, but most of its pages hold an A+ rating, whereas Terminix has a C+ rating on that platform.
Orkin Reviews
Most of the customer reviews indicate that people are satisfied with Orkin's services and perks, including the 30-day money-back guarantee and a 10% refund to unhappy commercial customers. However, some customers claim to have canceled their contracts when Orkin failed to follow up on its initial service. 
Terminix Reviews
Terminix is known to have customers associated with them from longer periods and quite happy with the services. They found Terminix affordable and effective. However, lately, there have been complaints regarding customer services and the allotment of specialists. 
Who Is Better? Terminix or Orkin?
Terminix has a lower Better Business Bureau (BBB) rating than Orkin, which is a plus for Orkin's reputation. On the other hand, Terminix has a number of services for its clients and provides an online portal for commercial customers. Both the companies provide complete pest control services and are armed with a century of experience, on-staff entomologists, 24/7 support, and satisfaction guarantees.
However, Terminix has a variety of valuable services for business clients as well that make it an easier choice for all homeowners, company owners, and property managers.
Frequently Asked Questions (FAQs)
What Is The Best Termite Treatment?
The most effective is the Borate wood treatment which is a termite killer and repellent that penetrates deep into the wood grain. It kills any termites on touch and prevents new colonies from forming.
How Does Orkin & Terminix Treat Carpenter Ants?
Orkin conducts a thorough search in the house to find the carpenter ants' nest and treat it chemically. Terminix, however, does not cover carpenter ants under their services.
Who Is Better For Termites, Orkin Or Terminix?
Orkin and Terminix provide similar sorts of treatments for termites. However, Terminix can be termed the winner here since it is the first-ever company to obtain a termite control patent and has better products and services than others.
What Chemical Does Orkin & Terminix Use For Termites?
Both companies use liquid soil treatment, termite bait, and tent fumigation services to eradicate termites.
How Long Does Orkin & Terminix Termite Treatment Last?
On average, termite treatments last for five years when maintained annually. Terminix does not claim any particular number of years for its treatment to last, whereas Orkin states that its treatment lasts for two years.
What Do Orkin & Terminix Use For Bed Bugs? Which Is Better?
Both companies have slightly different approaches to treat bed bugs. Orkin applies knockdown sprays and aerosols for bed bug treatments. Whereas, Terminix is best known for eradicating these bugs. They prefer not to go with the usual spray and fog method and instead use bed bug heaters to carry out the process in mere 90-minutes.
Is Exterminator Spray Safe For Humans?
Exterminators can be harmful to humans; it is not recommended to be present in the same house where the chemicals are sprayed. Even small doses can irritate the nose, eyes, and even cause a scratchy throat.
How Long Are The Orkin & Terminix Contracts?
Orkin's contracts last for one to three years, whereas Terminix provides service agreements for either three or six months. Both the companies provide options to renew your contracts after the expiration date.
Are Terminix And Orkin The Same Company?
No, Orkin and Terminix are two different industry giants that offer pest control services to customers across the United States.