Orkin vs. Aptive: Which Of The Two To Choose?
Published Date: August 9, 2022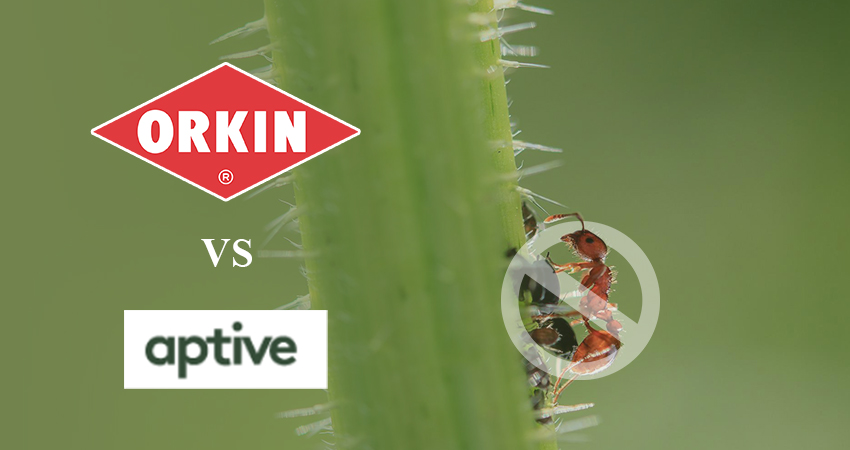 Orkin and Aptive are two of the leading companies in the pest control industry today. While Orkin boasts of more than a century's worth of experience, Aptive, despite its relatively new entry, has fast gained popularity in the market. 
If you are looking to choose between the two, the choice may come down to your pest control needs. Other factors like their prices, the variety of treatment or prevention plans available, customer service, and more also matter. Our Orkin vs. Aptive review goes over all these aspects, analyzes them, and compares the two pest control companies against each other to make things easier for you.
Quick Comparison at a Glance
| | | |
| --- | --- | --- |
| | Orkin | Aptive Environmental |
| Standout Feature | 120+ Years Of Service | Best Eco-friendly services |
| BBB Rating | A+* | A+* |
| Pricing (Monthly) | $45 | $45-$50 |
| Year of establishment | 1901 | 2015 |
| States Covered | 47 | 31 |
| 24/7 Availability | Yes | Yes |
| Online Chat | No | Yes |
*Ratings may vary per area/state.
About Orkin Pest Control
Orkin has been around for more than 120 years, operates in over 400 locations worldwide, and offers both household and commercial pest control services. The company provides targeted and preventive treatments for common pests like fleas, termites, mosquitoes, rodents (mice, rats, etc), bedbugs, and many more. The company's service pros are required to undergo 160 hours of training to enhance their skills and has currently served 1.7 million customers till date.
For a more detailed look into the company's offerings, check out our Orkin review.
About Aptive Environmental
Aptive Environmental started out in 2015 and is North America's fastest-growing pest control service. The company has serviced over 1 million homes since its inception. It deals with residential/household pest infestations combating pests such as ants, cockroaches, spiders, various types of stingers and biters, pantry pests, and other uncommon pests like pill bugs, centipedes and millipedes, aphids, etc. It also offers commercial pest control solutions.
To check out Aptive Environmental's service offerings in detail, read our Aptive review.
Orkin vs. Aptive – Pest Coverage
Take a glance at the pests covered by Orkin and Aptive.
| | | |
| --- | --- | --- |
| Covered Pests | Orkin | Aptive |
| Ants | ✔ | ✔ |
| Bed Bugs | ✔ | ✔ |
| Beetles | ✔ | ✔ |
| Carpenter Ants | ✔ | |
| Cockroaches | ✔ | ✔ |
| Centipedes & Millipedes | ✔ | ✔ |
| Flies | ✔ | |
| Crickets | ✔ | ✔ |
| Fleas | ✔ | ✔ |
| Mites | ✔ | |
| Earwigs | ✔ | ✔ |
| Mosquitoes | ✔ | |
| Spiders | ✔ | ✔ |
| Rodents | ✔ | ✔ |
| Silverfish | ✔ | ✔ |
| Termites | ✔ | |
| Moths | ✔ | ✔ |
| Stink Bugs | ✔ | |
| Stinging Pests (wasps, bees, scorpions, etc) | ✔ | ✔ |
| Pill Bugs | | ✔ |
| Aphids | | ✔ |
| Snails | | ✔ |
As you can see, Orkin seemingly covers more pests than Aptive does. However, Aptive makes it a point to list the various types of ants, beetles, stingers, and others that it covers whereas Orkin is more vague.
If you are facing a specific pest problem and want to find out if these companies cover it, request a free quote!
Orkin vs. Aptive – Plans
Both Orkin and Aptive offer pest control plans along with a 30-day money back guarantee. To prevent the recurrence of a pest infestation, Orkin stays in touch with via scheduled visits whereas Aptive offers reservices.
Here, we have elaborated on these companies' plans and treatments.
Orkin Plans and Treatments
Orkin's general approach towards pest control includes investigating the premises, protecting the property by eliminating any vulnerable spots, and fortifying these spots by sealing or adopting any method to keep the insects out. The company also treats potential vulnerable areas in your home like the kitchen, bathroom, garage, etc. 
When these general measures are done, Orkin pros will draw up a report detailing the rendered services and recommend measures to prevent any future infestations. They'll also be in touch via scheduled visits.
Orkin's treatment for each pest varies. Here's the treatment process for a few of them – 
Termite Control
Orkin may use different treatment options depending on the problem at hand. Termidor liquid treatments are used to create a barrier and also prevent future infestations. The company also uses DryFoam and OrkinFoam that seep into walls, pipes, etc. The Sentricon Bait and Monitoring treatment stunts the growth of termites while simultaneously providing protection to your property.
Bed Bug Removal
Orkin pros will first inspect the infested room followed by the adjacent rooms. After observing the extent of the infestation, the pro will next adopt necessary measures to disrupt the lifecycle of the bedbugs. Once the treatment is done, the pros will keep an eye on common hiding places of bed bugs in case any of them are missed out.
Mosquito service
After locating mosquito development sites, Orkin pros will spray a combination of natural insecticides and synthetic chemicals on them. Next, they'll use microbial insecticides to prevent any of the mosquitoes' eggs from hatching.
Tick Control
Orkin's tick control includes using conventional insecticides on active and vulnerable spots. The Orkin pro will also list out habitat modifications to prevent a future tick infestation.
Aptive Plans and Treatments
Aptive's approach towards pest control typically involves a combination of offensive and defensive tactics. Aptive Environmental's protection plans last for a year and comprise 5 service appointments. The company's treatment process entails using its effective and powerful solutions, followed by a subsequent visit after one month to spot any surviving pests. It also offers free services if the pests return. 
Aptive too offers different treatments for each pest. Take a look at some of them –
Ant Control
For ant extermination, Aptive believes that identification is key. Certain species of ants may require a different treatment to be effective. After identification, its professionals will use the company's residual products on the source of the problem to prevent a recurrence, specifically the ant nests. 
Rodent Removal
In case of a mouse or rat infestation, Aptive professionals will first locate and seal any potential entry points. Next, they will set up professional traps and bait boxes to ensure quick elimination.
Pantry-pest service
Aptive Environmental also targets pantry pests or stored products pests. These pests are a result of purchasing infested products. Aptive's pantry-pest service includes Grain Beetles, Granary and Rice Weevils, and Indianmeal moths. 
The company also recommends throwing out the infested products first and storing other food items in air-tight storage, followed by deep-cleaning the surrounding areas. The professionals will then apply relevant pesticide to exterminate these pests.
Spider Control
Since spiders eat other insects, Aptive professionals will first target and treat your property for them. Different types of spiders demand different treatments, so the professionals will identify the specific spider species and then take the appropriate action.
What We Think
While the efficacy of both Orkin and Aptive products may differ for each home, in terms of plans and coverage, we find Orkin to be superior. Aptive misses out on offering pest control for some common and critical pests like bed bugs and termites.
Key Details 
| | | |
| --- | --- | --- |
| Key-Details | Orkin | Aptive |
| Residential Pest Control | Yes | Yes |
| Commercial Pest Control  | Yes | Yes |
| One-Time Treatment Available  | Yes | Yes |
| Preventive Services | Yes | No |
| Eco-Friendliness | Yes | Yes |
| Satisfaction Guarantee  | 30-Days | 30-Days |
Orkin vs. Aptive – Prices
Generally, the cost of your pest control service depends on several factors. Some of them are the size of your home, the type and severity of the pest infestation, and your location.
When compared to each other, Orkin's and Aptive's prices are more or less the same. The monthly cost of Orkin may round up to around $45 and Aptive features a similar pricing – $45-$50.
Wondering if these companies offer flexible payment options? Get a quote to find out!
Orkin vs. Aptive: Locations
Orkin serves in 47 U.S. states except South Dakota, Alaska, and Wyoming. Aptive Environmental currently serves in specific locations of 31 U.S. states and is expanding.
What Do Customers Think?
While general reviews of companies are helpful in terms of the information they offer, customer reviews are a great way to find out how efficient and effective the company and its offerings are. For this reason, we have gone through tens of thousands of Orkin and Aptive reviews on Google, Yelp, TrustPilot, and many other review platforms. Here's what we have found out.
Orkin Reviews
The positive reviews of Orkin mention that the customer service is friendly and responsive. The pros are reportedly professional, knowledgeable, and good at what they do. The negative reviews complain about the delay in scheduling appointments. The service in different locations varies but overall, Orkin customers seem to have a largely positive experience.
Aptive Environmental Reviews
According to Aptive Environmental reviews, their positive aspects seem to be a punctual, professional, and informative professional network. However, the company recommends that pets be kept away from the treated area until some time. The complaints mostly speak of the deteriorating quality of work since the initial visit and problems with canceling the contract.
Who is Better? Aptive Or Orkin?
Aptive and Orkin are comparable in terms of price. However, in other areas like coverage, availability, and treatment options, Orkin is evidently the better choice. On the other hand, Aptive is more environmentally friendly and is the top contender if you're looking for eco-friendly and sustainable means of eradicating pests. While these two may be better than the other in some aspects, the choice comes down to your needs.
Frequently Asked Questions (FAQs)
What Makes Aptive A Different Pest Control Company Than Orkin?
Aptive Environmental, in line with its name, is more focused on being environmentally- friendly. Aptive is also more inclined to terminate the source of the problem in their treatments.
What Chemicals Do Aptive And Orkin Use For Pest Control?
Both Orkin and Aptive, respectively, use their own formulated chemicals to eradicate pests. While there is not much information available about Orkin's products, Aptive's products comprise Chrysanthemum.
How Does Orkin & Aptive Treat Carpenter Ants?
Orkin, after carrying out an initial inspection, will bait carpenter ants with sugary baits laced with insecticides. The worker ants will carry these items back to their nest, affecting the queen ant, larvae, and other ants. Orkin pros will also use a combination of chemical and non-chemical solutions to eradicate carpenter ants. 
While Aptive doesn't treat carpenter ants, they offer treatments for Argentine ants, Fire ants, Pharaoh ants, Pavement ants, Odorous ants, and Thief ants.
How Long Are The Orkin & Aptive Contracts?
Orkin's contracts may be purchased for 1-3 years, while Aptive Environmental's contract lasts for one year.
How Often Do Orkin & Aptive Conduct Follow-ups?
Aptive's Four Seasons plan has 5 service appointments throughout the year. While Orkin does have regular scheduled visits during the contract term, the exact number of visits is not known.
Is Orkin More Expensive Than Aptive?
No, Orkin is not more expensive than Aptive. Their pricing is more or less the same.
Is Aptive A Reputable Company In Ohio?
Yes, Aptive Environmental reviews in Ohio indicate a positive perception of the company in the state.
Is Terminix A Better Company Than Orkin?
Terminix and Orkin are giants in the pest control industry and enjoy a positive reputation in the space. While both companies offer comparable products and services in every regard, the choice will come down to individual needs. Read our in-depth comparison of Orkin vs. Terminix to find out which company is best suited for you.