Will American Home Shield Make An Appliance Replacement?
Published Date: July 26, 2022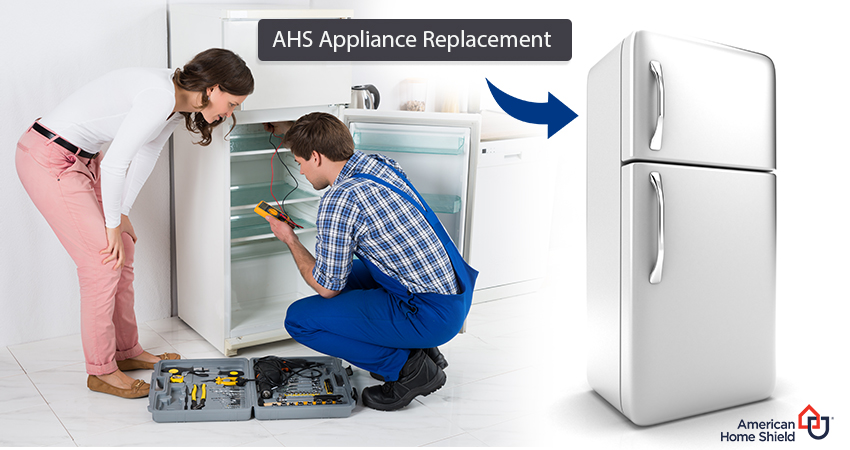 As an AHS customer seeking a replacement for your appliance, you may have many questions, including what is the American Home Shield appliance replacement process or dollar limits. We have got you covered. Keep reading to find out about the entire procedure, covered parts and components, limits, exclusions, and more!
What Is The Process Of AHS Appliance Replacement?
If your covered appliance is broken down, you can start placing service requests once the waiting period ends. To submit a service request, follow these steps: 
 You can request a service by calling the customer support department. You can also submit your claim online on its website or via email. 

After submitting the request, the company will process it and assign you a licensed technician or contractor.

The technician will diagnose the problem and inform the company about it. AHS will then verify whether the appliance is covered and further process your claim. 

AHS can make an appliance replacement only if the appliance is non-repairable or the repair costs are relatively higher than the replacement cost. If your appliance meets these requirements, AHS will arrange a new device. The new appliance will be of a similar model.

In some cases when replacement is beyond AHS's control, it may offer cash-in-lieu of repair or replacement. If you accept the offer of cash out, you're responsible for providing a new replacement and sending all the acceptable bills/proofs to AHS to collect the refund.

In normal circumstances, AHS will look after all the replacement costs, but you'll be responsible for paying the service fee during the technician's visit.
Note: If the replaced appliance meets any issue during the first 30 days of replacement, AHS will cover the further fixing costs.
Does AHS Replace All Appliances? 
American Home Shield will make a replacement for all the appliances including the kitchen, covered under your service contract. Look at the following table for detailed information about the covered appliances and their parts eligible for replacement. 
| | |
| --- | --- |
| Appliance | Parts / Components Eligible For Replacement |
| Refrigerator | All Except Freestanding Freezers, Multi-Media Centers, And Wine Chillers |
| Clothes Dryer | All Parts And Components + Heating Element + Drum Roller + Motor |
| Clothes Washer | All Parts And Components + Drain Pump + Tub Bearing |
| Ranges/ Cooktop/ Oven | All Parts And Components + Gas Burners + Cooktop Elements + Ignition System + Temperature Sensor |
| Dishwasher | All Parts And Components + Sprayer Arms + Inlet Valve + Drain & Circulation Pumps |
| Built-in-Microwaves | All Parts And Components |
| Garbage Disposal  | All Parts And Components |
| Instant Hot/Cold Water Dispensers | All Parts And Components |
Apart from these items, AHS provides coverage for various other major systems in your house including air conditioning & heating units and may also replace them. If your HVAC unit is covered under AHS warranty plan, read our detailed article to know more about- American Home Shield HVAC replacement process. 
AHS Appliance Replacement Limits
AHS home warranty has dollar limits on each appliance replacement. Check out the table for specifics:
| | |
| --- | --- |
| Plans | Replacement Limits |
| ShieldGold | Upto $3,000 |
| ShieldPlatinum | Upto $6,000 |
Can AHS Deny Replacing My Appliance?
American Home Shield may decline your claim if the malfunction is caused due to the following reasons:
Known pre-existing conditions,

Accident, freezing, fire, electric failure, water damage, inadequate or excessive water pressure,

Misuse or abuse by pets, pests, or animals,

Lightning, earthquake, storms, soil movements, mud, and Acts of God,

Manufacturer's defect, improper design, and materials, 

Lack of maintenance, and 

Removal of parts. 
Note: These exclusions vary for different home warranty companies. So we advise you to read your service policy thoroughly and understand the terms & conditions to avoid any claim denials.
AHS Appliance Replacement: Customer Reviews
American Home Shield's appliance replacement services have received mixed reviews. The users had complained that it is sometimes impossible to reach customer service representatives to place service requests. Customers also had complaints regarding some technical difficulties which they had faced on the AHS website. 
However, some consumers expressed their satisfaction with the American Home Shield appliance replacement process and mentioned how they received brand-new and high-quality appliances. Some have also stated they've never had a negative encounter with AHS. When appliances broke, there were excellent quick replacement options with a simple procedure and the services were worth it.
The Bottom Line
If any of your covered appliances fail and you seek a replacement from American Home Shield, ensure that your device meets the requirements to avoid any claim denials. Additionally, if you receive a replacement, we advise you to maintain and protect it as per the given guidelines to avoid any further breakdowns.