A security system is a must-have for any home nowadays, considering the increasing number of burglaries all around. To tackle this problem, you must choose a system that fits your requirements and budget. Once you pick equipment that best suits your needs, the most vital aspect to get your property guarded against the unknown is the security system installation.
You have two options for home security system installation, which are: the professional route or the DIY option. Based on your preferences and specifications, you must choose an installation procedure that suits you to make sure the entire process is hassle-free.
This detailed guide will help you understand the different intricacies of professional home security systems installation and the DIY route. But first, you must know why you need a home security system.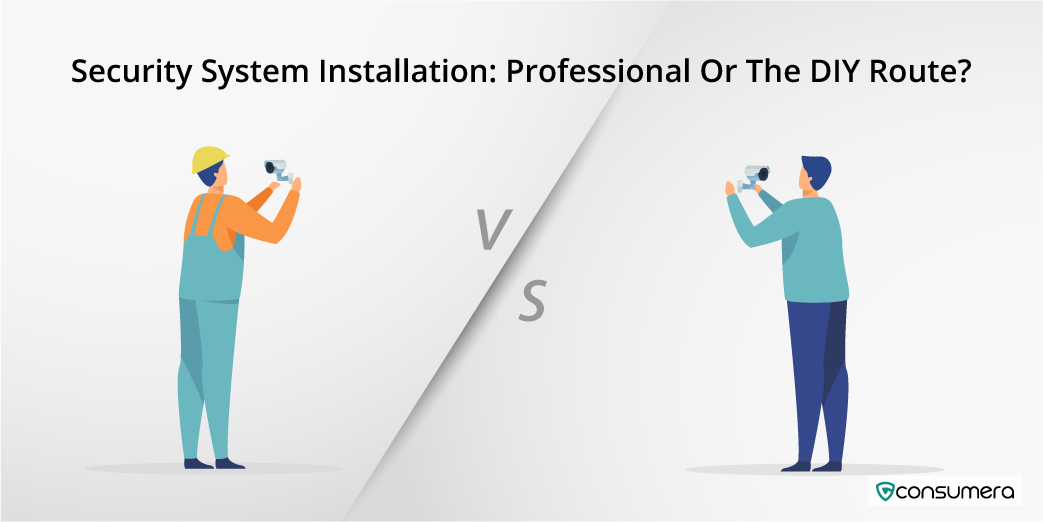 Is a Security System Worth It?
Yes, it makes sense to purchase a home security system immediately. A study by the FBI states that burglaries are growing across the country, and losses of around $15.8 billion were incurred because of property offenses in 2019 alone. What's worse is that theft occurs every fifteen seconds, while burglaries are the most common occurrences.
Another vital aspect to note is that most burglaries occur in the morning while you and your family are away from home. It's a good idea to opt for a security system at the earliest to tackle the unknown. Some reasons that make a security system all the even more worthwhile are:
The valuable items in your home remain protected
You can remotely access several devices across your home
Sends alerts if there are fire or gas emergencies
Keeps an eye out for your kids while you're away
Home security systems help in reducing your homeowner's insurance
The peace of mind knowing that you are protected from intruders
What To Look For In A Home Security System?
Several components must get included in your new home security system. Be it equipment, installation, or cost, everything is essential. The pointers listed below help you understand what must get incorporated into your home security system.
Smart home features: voice integration, mobile application, safety for kids
Two-way communication, so you know your loved ones are safe
Wireless monitoring option that sends emergency alerts to the base station
Wearable equipment that helps you in emergencies
Various cameras to monitor different areas in your home
Sensors that detect emergencies
Alerts for fire and smoke detection
Further reading – Lots more on what to look out for in-home security systems.
How Much Does It Cost For Security System Installation?
Security system installation gets classified into the following two components:
Professional installation – Costs you between $99-$199 on an average. However, it is essential to note that professional alarm system installation can even cost you between $300-$1000, but this depends on a case to case basis. What's also important to note is most professionally installed systems are monitored, which means if there is a breakthrough, the emergency center gets notified, alerting the team about the situation at hand.
DIY installation– The cost of going the DIY route is free. But you must understand that when you opt for the DIY surveillance system installation, the products are unmonitored, which means if a break-in takes place, the emergency center will not get notified. You must note that if the device's sensor is triggered, it will only send an alarm bell to those contacts on your emergency list.
Professional vs DIY Home Security Systems
Now that you are better aware of the costs of the two different installations available. Let's help you understand more about these systems. Listed below are essential aspects of both systems.
Professional Systems
There are several aspects you should know about a professionally installed system if you opt for this route. Listed below are some critical features of a professional security alarm installation.
The convenience of knowing that all the devices will get appropriately installed, plus the technicians will guide you through the various nuances of the items.
With a professionally installed system, your package includes cameras inside and outside your home and sensors for your windows and doors.
When your system gets professionally installed, you have signed up for a contract with the company. This means if certain items start to malfunction, you can easily reach out to the company for a replacement.
DIY Systems
You must understand the vital components of the DIY option. Read some significant aspects below.
The company's equipment is simple to install and comes with a user-friendly guide to help you go about the process conveniently.
The DIY option is perfect for people who currently live on rent and may move to a new place at any point in time.
It's the perfect option if you don't want any outsiders in your home, especially in these times of the pandemic. Also, you don't have any hassles of setting up an appointment with technicians.
Pros And Cons Of DIY Installation
You must understand lots more about how to install security systems with the DIY technique. You will find some advantages and disadvantages listed below.
Pros of DIY Installation
When you opt to install your security devices by yourself, there are several benefits of the entire process. Check them out below.
You only pay for the equipment no installation charges are needed
Most of the products do not have any wires, making it all the easier to install
The convenience and luxury of setting up the devices at whatever time you want to
Cons of DIY Installation
It's also critical to understand that there are several drawbacks of installing the devices by yourself. Some disadvantages are as follows.
The chances of not installing the items correctly are high
If you live in a large home, you will need to go the extra mile for installation
The cost of equipment is going to be high since installation is free of charge
What To Keep In Mind While Choosing Between The Two?
It's of uttermost importance that you understand your requirements before opting for an installation. Factor in different aspects such as the size of your home, the number of family members, budget, and time on your hands before deciding.
Knowing your requirements can help you go about making the best decision for a smooth installation. The next section will help you understand how to pick the installation procedure that suits your needs.
How To Choose The Best Installation For Your Homes?
Both installation techniques can be beneficial to you, depending on your current situation. To choose the right procedure, you must keep in mind critical aspects that matter to you. If you live in an enormous property with not a lot of time on your hands, it makes sense to opt for a professionally installed home security system. However, it would help if you kept in mind that professional installation can be a costly affair, and you will need to set up an appointment with the company's technician at a suitable time.
On the other hand, if you don't want to burn a deep hole in your pocket and have free time to spare, the DIY option is your best bet. But you must take note that installing equipment all by yourself can be a challenge if you have never done it before. Finally, once you are clear in your head, you can go ahead and choose the perfect installation procedure.
Why Choose Professional Installation Over DIY Installation?
If you are not aware of how to set up a home security system, choosing a professional installation is a good idea. Plus, your mind is at peace, knowing that a professional will take care of everything from start to finish. Some advantages of having a home security system professionally installed are listed below.
A Complete and thorough job is done
Technicians conduct walkthroughs on how to use the devices
Any maintenance related issues will get handled by the company
You know your devices will not let you down in critical moments
Closing Thoughts
Ultimately based on your requirements, needs, and the situation at hand, you can opt for an option that fits your needs. Some of the top companies that offer professionally installed products are ADT, and Vivint Smart Homes. Moreover, some of the best companies that offer DIY solutions are Frontpoint, Simplisafe, and Link Interactive.