Home security systems are devices that work to protect your properties from intruders. The advantages of having these gadgets set up in your home are many. In this post, we will help you understand more about how an effective home security system can be advantageous and lots more.
But before digging into the effectiveness of these systems, you must understand what essential elements do home security systems contain. It will help you use your security system up to maximum effectiveness.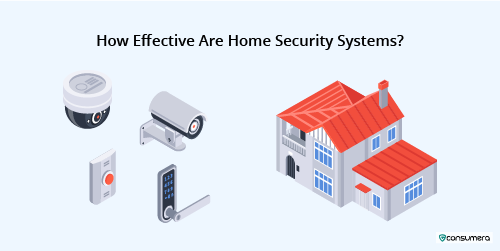 Critical Components Of A Home Security System
Like all other systems, a home security arrangement also has essential components that make sure it runs smoothly. These are vital components that must be included in the home security system you choose. The pointers mentioned below will help you understand what these devices are so that you can use your security setup to its fullest potential.
Security Cameras
Home security cameras help you run footage of vital pressure points in your home. Homeowners must set up these devices at critical locations such as entry points, windows, and on the doors of your residence. Once the instruments are set up, homeowners can watch what's happening in the property on their mobile devices.
Motion Sensors
These sensors are one of the most critical components of a home security system. For optimal usage, you can place them at crucial entry points in your home. If any unwanted element is detected, the sensor starts beeping. If you are away from home and your sensor is synced with your mobile, you will receive real-time alerts.
Key Fobs
The advantage of a key fob is that it lets you control your security system from the comfort of your bed. You can enable or disable your setup from anywhere in your home. If you have forgotten to switch on the security system at night, you can do it right from your fob.
Keep in mind several other components help maximize effectiveness for your security system. Some of your device's other vital elements are garage door controllers, smart led light bulbs, touchscreen deadbolts, etc.
Further reading – Lots more to understand about security system installation.
The Effectiveness of Home Security Systems
Homeowners must understand the value that these systems bring to their properties. These arrangements can assure you peace of mind and also keep intruders at bay. Some of the benefits of these systems for you are as follows:
Valuable components in your home, such as electronic devices or vehicles, get protected with these systems' help.
Makes sure you are continuously aware of what's happening in your home through live surveillance and 24/7 video footage.
Many top security companies include fire detection alerts with the products they offer. It comes as an added layer of protection for homeowners.
Most home security systems nowadays allow you to keep watch on your kids while you are away from home. It is possible through the live monitoring option that the cameras of the system provide.
Many home security products also help you monitor the power consumption of appliances in your residence. A critical feature like this can help you save thousands of dollars on power bills.
You can also configure your systems to alert the police when any suspicious activity gets detected in your residence. But you must understand that this feature must be available in your product and must be enabled for optimal use.
Several of today's home security systems come with a panic button. This makes sure you are protected by alerting the cops even when your device is off.
Numerous home insurance companies reward homeowners who have security systems installed in their properties. Insurance companies offer reduced premiums and discounts, mainly because these homes have a reduced chance of thefts or fire damage.
Even if a power outage takes place by chance due to a storm or hurricane your devices run since they operate on batteries.
Many smart security systems can also get control through voice input, making them extremely convenient to use.
The next section will help you understand why home such systems are worth it. You will also get a fair understanding of some of the advantages which make them a worthy buy.
Why Do You Need A Home Security System?
Now that you are aware of these systems' effectiveness, you must understand why you need to opt for one. The following factors mentioned below will help you understand why you should protect your home with these systems.
Security systems can be installed all by yourself, saving you money in the process
You need not worry about a thing as the device monitors your entire home
If any suspicious activity is detected, you are immediately alerted on your mobile
If you are a traveler and love to go for long vacations, you are assured your home is safe
Home security systems are cost-effective and do not burn a deep hole in your pocket
All the items in your home and your loved ones are safe when you install these systems
The Top Home Security Companies
There are several top home security companies that offer products and services for customers today. The secret is to choose a company that fits your requirements and budget. We have listed out some of the top companies for you.
Link Interactive
SimpliSafe Home Security Solutions
Frontpoint Security
ADT
Protect America
As a potential customer, it is vital that you thoroughly analyze what each company offers before going ahead with your pick. You must look into the products and check whether they fit your home requirements or not before going ahead. This analysis makes sure you select the best possible company. You can check out more on these companies on Consumera.
The Final Word
Home security systems can be an effective bet for most homeowners. Also, these systems are easy to maintain and don't give you trouble for many years. So go ahead and get that perfect home security system that best suits your needs right away.