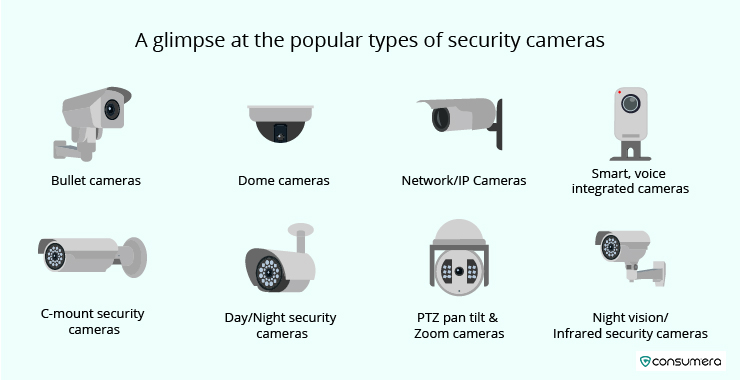 Security cameras are undoubtedly one of the core components of a security system. Today, different types of security cameras are available in the market. Go through the types of security cameras and their features if you are considering buying one to protect your and your family.
Bullet Cameras
These cameras are long cylindrical, largely resembling a bullet, and hence the name. Bullet cameras are capable of capturing videos or pictures from long distances. Since they are commonly placed outdoors, they are resistant to dust, dirt, and water. At the tip of the camera is a small cover or lip, which reduces glare and adds weather protection. Besides recording quality pictures, the bullet cameras can also send out a message to the trespassers that your home is under surveillance. The major drawback of bullet cameras is they are highly prone to vandalism due to their easy visibility.
Dome Cameras
Dome camera sits in a dome-shaped casing, and hence the name. Its shape makes it difficult for the trespassers to determine which side the camera is looking, creating an air of uncertainty. They offer 360-degree rotation to cover all the angels. Dome cameras include several features such as night vision, heat, and motion-sensing technology. Also, they can be connected to NVR or DVR recorder. These cameras can be installed indoors as well as outdoors and are highly resistant towards vandalism and tampering.
Network/IP Cameras
IP cameras are low maintenance security cameras. They share live footage across the high-speed internet, allowing you to view the footage online from any part of the globe using a laptop or mobile phone. The online feed is made reliable by compressing the bandwidth of the video. Archive footage is stored on network video recorders or secured software. The key benefit of this type of camera is it does not require coaxial cables for set up and a monitoring station.
Smart, Voice Integrated Cameras
These are the newest security cameras in the market. These cameras can be monitored and controlled using voice commands. The cameras can integrate with existing smart-home devices for ease of use, more flexibility, and comprehensive coverage. The majority of the smart, voice integrated security cameras can integrate with both Amazon Alexa and Google Assistant.
C-mount Security Cameras
This type of security camera is best for you if you wish to adapt to the field of vision. The C-mount cameras are bulky and equipped with detachable lenses to switch around to monitor varying ranges. The key advantage of this type of camera is it consists of special lenses to extend its range beyond 40 feet. The C-mount security cameras are weatherproof and include rugged casing to protect from cold weather conditions. The visibility of the cameras can discourage trespassers from targeting your home.
Day/Night Security Cameras
These cameras are designed to function during both day and night time. The cameras can record highest-quality video images, irrespective of lighting, and weather conditions. Day/night security cameras have extra sensitive imaging chips and a protecting casing. The standout features of this type of security cameras are that they can record video in low light in both back & white and color.
PTZ Pan Tilt & Zoom Cameras
A PTZ (Pan Tilt & Zoom) camera offers a 360-degree field of vision. At one touch of a button, the camera lens can zoom in & out, pan right & left, or tilt up and down. The optical zoom feature on this PTZ camera allows you to focus on the activities closely. Its image resolution is unmatched, enabling for easy distinguishing of facial features. With the PTZ camera, you can complete control of the recordings.
Night Vision/Infrared Security Cameras
These cameras are built to function in pitch black conditions using infrared technology. It captures back & white images during the night time. The cameras consist of an infrared cut filter that activates in the daytime for capturing quality color images in lighter conditions. The highlight of infrared/night vision security cameras is they can capture videos or pictures even in the presence of dust, smoke, or fog.
Now that you have a clear understanding of different types of security cameras choose the right fit to monitor and protect your & your family. If required, you can use a combination of security cameras and customize your home security.