Security cameras, a vital component of a home security system, play a crucial role in protecting a home from burglars or intruders. Having understood the importance of security cameras, today, more and more people are looking to buy them. If you too are looking to buy the best home security camera but are confused about which one to choose, then you have landed on the right page.
We understand that with several companies offering various types of home security cameras, choosing the best among them can be challenging. To help you narrow it down, we have listed the best home security cameras.
We have also listed various types of security cameras and their benefits. Let's have a look at them.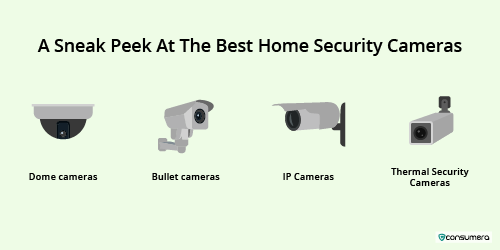 The Best Home Security Cameras
Some of the best home security cameras include:
1. Dome Security Cameras
The dome security camera gets its name from its dome and circular shape. This type of security camera is enclosed in a transparent protective case making them more durable and resistant to vandalism.
The benefit of this type of security camera is that the dome shape makes it difficult for the intruders to determine the direction in which the camera is pointing. Another major advantage is they have movable lenses and hence can be used to monitor a wider angle.
2. Bullet Security Cameras
Bullet security cameras are named after their distinct cylindrical shape. These cameras look like a lipstick tube or bullet shell. Bullet security cameras are a visible deterrent, making your home or property a less desirable target. These cameras can be installed outdoors and indoors.
The main advantages of bullet security cameras are their installation and range. These cameras are easy to install. Also, they have a longer range, making them ideal for covering large areas like parking lots and backyards. The added advantage of a bullet camera is that bigger lenses can be fitted to its body.
3. IP Security Cameras
These are one of the most popular home security cameras. These camera systems are known for working perfectly in all weather conditions, be it rain or dust storm, and they have a night vision feature. IP security cameras have innovations that allow you to perform several activities like recording video, access to the camera remotely, etc.
These cameras can also recognize the light source and adjust its shading, making the focused object look clearer against dull or brilliant light. Advanced IP cameras have various features like audio recording, motion detection, and many more.
4. Thermal Security Cameras
Thermal security cameras are known for being less sensitive to lighting, such as backlight, shadows, camouflaged objects, and darkness and delivering high-quality images. These types of cameras are the best bet when there are outdoor areas that are difficult to monitor.
Thermal security cameras can be used with IP security camera systems to improve the strength of the current IP cameras. The added benefit of these cameras is that they can easily capture intruders from a distance during the day and night.
Benefits Of Home Security Cameras
Some of the benefits of a home security camera are as follows.
1. Discourages Burglars
One of the biggest advantages of home security cameras is that they act as a deterrent to intruders, burglars, or criminals, especially when it comes to pre-planned crimes. This means that burglars are less likely to target your home, keeping your home, and loved ones safe and sound.
2. Identifies Criminals
If any crime takes place in your home or the vicinity of the cameras, then the footage can be used to identify the criminals. This helps the police catch the criminals faster, preventing the recurrence of the crime in the future.
3. Validates Insurance Claim
After a burglary, you will be required to file an insurance claim due to theft or vandalism. With CCTV footage, you can prove that your home was burglarized and validate your insurance claim. An added advantage is that a security camera can help you avail of discounts or deductions on the insurance policy's premium.
4. Records Activities Of Family
Another benefit of a home security camera is it allows you to check-in on the elderly or kids even when you are away. Many cameras have remote monitoring features that let you see what is happening in and around your home while you are away and seek help.
Now that you know the types and benefits of home security cameras, let us look at the top security cameras that can protect your home at affordable prices.
Top Home Security Cameras In The Market
Some of the leading and reliable security cameras are listed below.
1. Vivint Home Security Cameras
Vivint Smart Home offers three types of security cameras: Vivint Doorbell Camera Pro, Vivint Ping Camera, and Vivint Outdoor Camera Pro. While Vivint Doorbell Camera Pro has features like smart visitor detection, night vision, and two-way talk, Vivint Ping Camera has an on-touch callout, two-way talk, and one-way video options. On the other hand, Vivint Outdoor Camera Pro is known for smart motion detection, high resolution, night vision, and smart clips.
2. Frontpoint Home Security Cameras
Frontpoint provides one of the best home security cameras in the market. Its outdoor cameras are wireless and work using Wi-Fi. These cameras have an infrared vision and can cover large ranges and capture high-quality video. The indoor cameras are built using cutting edge technology and can capture crystal clear videos. Frontpoint's doorbell camera has a motion sensor, two-way talk, and infrared night vision feature. Videos captured by these cameras are bank-grade encrypted.
3. Ring Home Security Cameras
Ring is one of the top home security system companies offering a wide range of security cameras. They include Indoor Cam, Stick Up Camp, Spotlight Cam, and Floodlight Cam. Indoor Cams are easy to install. They include features like two-way talk, motion-activated notifications, night vision, etc. On the other hand, Floodlight Cam has ultra-wide-angle motion sensors, LED floodlights, and a security siren.
Closing Thoughts
Security cameras are worth the money. They provide peace of mind besides protecting your home. But before buying, it is a must to check if the camera meets all your unique needs and falls within your budget, failing to which your investment may be worthless.