Pests in your Houston home can be a real nuisance and disrupt day-to-day activities for you and your family members. To tackle these insects in your home, you must opt for a pest control company's services. But it can be confusing to choose the best one since there are many top pest control companies in Houston, Texas.
This detailed post will give a better idea of Houston's best pest control companies, what they have got to offer, and more. The article will also cover the common types of pests found in Houston homes and critical aspects of these insects.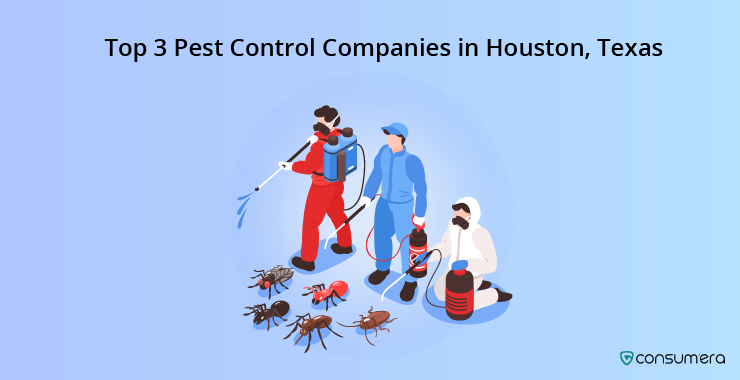 Common Household Pests in Houston Homes
The tropical climate in Houston allows several pests to thrive in your homes. They can find their way through several cracks and crevices in your walls and windows. You must be aware of these pests and their dangers. The list below will help you better understand these pests and what problems they can cause:
Cockroaches
These insects are one of the most common pests found in any Houston home. Also, cockroaches have a wide variety of subspecies, making it difficult for homeowners to differentiate between them.
What makes these creatures so versatile is their ability to eat various foods present in your home. The points mentioned below are essential aspects of cockroaches. All homeowners should keep these pointers in mind to better know their enemy.
Some of the dangers that these insects can cause you and your family members are asthma, cholera, and diarrhea.
Homeowners should know that the most common variants of cockroaches found in Houston are the American cockroach and the German cockroach.
Mosquitoes
Due to the tropical climate, mosquito infestations are ever-increasing and are a never-ending problem for the city's residents. If bitten by a mosquito, it can get severe in some instances for both humans and pets. The most prevalent disease that a mosquito bite can cause you is malaria, which in some cases, can also cause death. Here are some essential factors homeowners should know about mosquitoes.
Mosquitoes bite humans by sensing movement, color, and temperature.
Mosquitoes that bite you are only females since they require blood to make eggs.
Bed Bugs
These pests can cause a real problem for homeowners since they thrive in apartments, bungalows, single-family homes, etc. What makes things even worse is the fact that these insects are hardy creatures, meaning they can live for months without a square meal and hide in your suitcases or furniture for months. The pointers mentioned below will help homeowners be better aware of bed bugs.
Bed bugs bite humans if they sense carbon dioxide warmth and darkness
A quick fix to get rid of these bugs is to spray a dash of tea tree oil, lavender, and peppermint on the areas that the insects infect.
Now that you are aware of the common pests found in your home. You must check out the top companies offering services in the city. Find out all the details in the section below and lots more.
Further Reading – How Should You Prepare Your Apartment For Pest Services
Top Pest Control Companies in Houston
Terminix
Be it a property in Uptown or anywhere else, Terminix has plans and products to treat pest infestations. All you need to do is send a request for a free pest inspection, and the company sends an experienced technician to check out how bad the problem is. Customers opting for a Terminix plan in Houston will benefit in the following ways:
Different plans and products available depending on the infestation
90 years of industry experience
Attic insulation services available
The table below will further help you understand why you should get your free quote from Terminix today.
| | | |
| --- | --- | --- |
| Total number of plans | Customer service available | X factor |
| 4 (excluding other services) | Yes | Commercial services available |
Orkin
The company provides pest control services in most of the areas in the city. Depending on your need and priority, you can opt for a plan for your commercial establishment or residential property in town. The company offers a range of services for both residential and commercial establishments. Here are some of the advantages customers will receive if they opt for the services of Orkin:
Money-back guarantee
Appointments at your convenience
Quick service available
Here's a closer look at some of the other advantages of Orkin's services.
| | | |
| --- | --- | --- |
| Total number of plans | Customer service available | X factor |
| 3 (excluding other services) | Yes | 118 years in the business |
Truly Nolen Pest Solutions
Having treated pests for several homeowners, Truly Nolen Pest control is a company worth considering. The company ensures that only well-trained technicians come to examine the pest infestation in your home. You should consider this company if you want quick and fast solutions. The points mentioned below will classify some of the advantages of this company:
Attractive discounts for customers
Services for more range of pests
Help available on Saturdays
The other advantages that customer receives if they opt for Truly Nolen are as follows:
| | | |
| --- | --- | --- |
| Total number of plans | Customer service available | X factor |
| 3 (including the rodents & other pests plan) | Yes | 80 years of industry experience |
Advantages of a Pest Control Plan in Houston
Since you know the common types of pets found in Houston homes and the top companies, you must know the advantages you get with pest control plans. We've listed out some crucial pointers that help you understand the benefits of pest control plans:
Pest control plans and products are affordable
Top-notch technicians inspect and diagnose further course of action
Money-back guarantee if you are not happy with the services
Pest controls companies do follow up with customers to check the status of the infestation
The peace of mind knowing that your house is going to get pest-free very soon
Conclusion
Since a range of pests in Houston can cause significant damage in your home, a pest control plan is worth it. They are affordable and value for money and offer you several other much-needed benefits for your home.