Half the country is now staying home due to the lockdowns imposed by various states and you would think that this would diminish the number of burglaries that usually happen. Unfortunately, COVID-19 has brought on a spate of thefts that leverage the current situation. Thus, it is worthwhile to look at the best ways to keep your home safe from intruders during the COVID-19 pandemic.
Burglars have adapted to the new situation exceedingly well as can be seen from a few recent cases where the coronavirus infection was used as a ruse to gain entry. A couple of burglars entered a home in Chicago by pretending to be there for testing water supply for coronavirus contamination. Motor vehicle burglaries have seen a spike everywhere.
Keeping your home safe now requires tweaking of the typical advice due to the changed circumstances brought on by COVID-19. Here are the top ways to keep intruders out.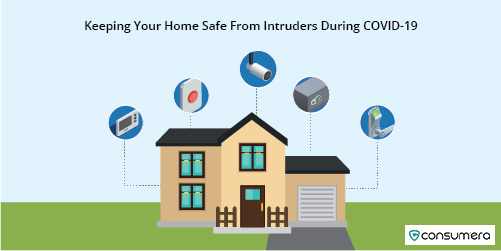 Staying at Home Safe
Most burglaries tend to happen when the owners are not home. However, now with most of us staying home all the time in the interest of social distancing, there is a good chance there can be robberies at night or with the burglars posing as servicepeople like utility workers.
The best thing to do is not to let anyone in without a prior appointment with verified professionals. Ask to check identity documents and if possible cross-verify by calling the phone number of the company or service the person claims to have come from. Get the phone number yourself from the legit website.
If you do step outside regularly, ensure that someone is watching your home, perhaps neighbors, or a good security camera. You can avail of the services of regular monitoring home security providers. Automating your lighting controls to periodically turn the light on and off can make it look like you're home and dissuade would-be intruders.
Secure Your Valuables
Your expensive vehicles are unlikely to be much in use now and several counties have recorded a rise in vehicle theft. Keep your bikes locked away securely in sheds or within your home and make sure that your garage door is equipped with sensors and the latest smart locks. It is unwise to leave your car parked unattended in these times.
Invest in a steering wheel lock if your car doesn't already come with one. Anti-theft sirens are also a good investment.
If you have expensive jewelry at home, you will want to invest in a good safe that you can install in a well-hidden place. Safes are also excellent to store vital documents to prevent identity theft.
Don't leave your expensive electronics unattended or in plain sight. You should use window blinds and heavy curtains to prevent your home from being cased. With more of us staying home, thieves can target electronic devices easily.
Upgrade Your Home Security Locks
This pandemic is the best time to reevaluate your home locks. Are they the old style locks with multiple sets of keys that can be duplicated? If you have a modern lock, then how old is it? Is it working smoothly?
Consider upgrading to smart locks that require passcodes or biometric unlocking while also sending alerts to monitoring professionals if there are suspicious attempts at forced entry. Opt for an ANSI grade 1 or 2 deadbolt if shopping for a new lock system.
Change your passcode regularly and make sure that the codes don't fall in the hands of strangers. Don't use predictable passcodes.
Get Sensors
Sensors are an excellent way to keep track of movement in your house whether or not you happen to be present. Motion detectors are quite sensitive and can pick up movements and report to your monitoring center. If you choose self-monitoring then you can combine motion detectors with security cameras that will alert you to any suspicious motion within your home.
You can combine motion sensors with exterior floodlights, doors, and windows as well as your garage door to keep a comprehensive lookout.
Reinforce your door and windows
If you have purchased a home security system then your security camera and door window sensor needs are taken care of. Your system may also include tamper-proof locks for the doors and windows.
Other great ways to burglar-proof your home are to use plexiglass or tempered glass to make your windows. Being very hard to break they obstruct burglars from making noiseless entry. Window bars are another very easy way to cut down hugely upon chances of anyone entering as they are impossible to remove without a lot of noise.
The pandemic has brought enough worries without having to take on added stress due to risks of break-ins and thefts. To keep your focus on safeguarding the elderly and very young family members from the COVID-19 infection its best to free the mind from having to worry about burglars.
A good home security system can help especially if you take a monitoring package that will alert the authorities for you. Check out the reviews on Consumera to make the best choice.