Summer's here! And you know there's no better time to clean up and repair than now. If there's any repair work that you've been wanting to do, now's the time to do it. With the sun out and the heat on the rise, there are some things that you need to tend to first to make sure that you and your family stay cool and have a fun summer.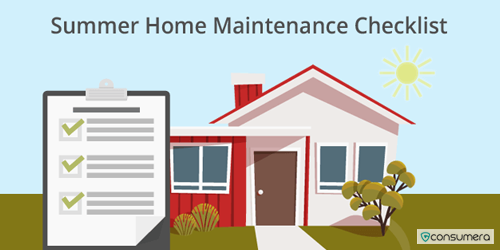 20 Summer Home Maintenance Tips That Are A Must Do
Here are 20 summer home maintenance must do's to have a great summer. At the end of this post you'll find a summer home maintenance checklist which you can download and take a print of. You can check off tasks one-by-one until the checklist is done.
1. Clean AC Filter
First things first, you should clean your air conditioning (AC) filter. If your AC is not compatible with auto-cleaning, you can clean the filter manually. Also, check if the air filter is washable or disposable.
If it's disposable, follow these steps to clean the AC filter:
Remove the air filter and vacuum it
Vacuum any dirt and debris from the filter using the crevice tool or the vacuum tool
Rinse the filter with running water (don't use soap water)
Air dry the filter. Repeat the process if required
If the AC filter is washable, the instructions are similar. Instead of vacuuming, you can soak the filter in warm soapy water and then air dry it. If you prefer using a homemade cleaning agent, you can use a solution of vinegar and water.
In a case where the filter is extremely dirty and cleaning it doesn't help, you'll have to replace it. If the filter has holes or is torn, the same rule applies.
A clean AC filter doesn't just improve the quality of air in the home, it also keeps your unit working well for years to come. An added advantage of cleaning your filter frequently and replacing it helps reduce energy bills. The U.S. Department of Energy says that regularly cleaning your filter can reduce energy bills by 5 to 15 percent.
2. Reverse The Ceiling Fan Direction
Reversing the direction of the fan during summer pushes the air straight down and creates a lovely breeze. This cools down the house. Turn off the fan and wait for it to stop completely. Now use a ladder or a stool so you can reach the fan. Locate the direction switch and flip it to set your fan to turn counter-clockwise. The switch is usually located on the side of the fan, above the blades.
3. Wash Window Exteriors
Washing the windows from outside is a task that doesn't happen very often. So get ready to use a little elbow grease to make those windows sparkle. Windex isn't going to do the trick if you clean your windows once a year. So, get a bucket of warm soapy water and let the scrubbing begin. If you prefer using a homemade solution, here's a homemade glass cleaning solution recipe that you can use.
4. Clean/Replace Window Screens
Just washing the exteriors of your windows isn't going to give you a crystal clear view of the outside. You need to wash your window screens as well. Take off all the window screens of the house and scrub them with a mild mix of hot soapy water. If some screens have accumulated too much filth and washing them doesn't help much, you could consider replacing them.
5. Inspect And Clean Driveway, Patio And Walkways
Summer is also a good time to clean your patios, driveway and walkways. Use a pressure washer for the job. Before you begin the cleaning process, check for cracks and weeds as they are easy to spot. Then bring out the pressure washer and clean up all that has been sitting there since last summer.
6. Wash Your Home's Exterior
The walls and roof of your home tend to collect dust, moss, bacteria, and stains. Not only does it give your home a bad curb appeal but it could also create problems for the home and reduce its lifespan. Unlike the driveway, pressure washing your home can cause structural damage that could lead to expensive repairs. Soft washing is a safe option that cleans the exterior of your home, protects your home from damage, and also adds to the look of it. And while you're at it, check the roof and walls for signs of cracks and other damages and if you find any, attend to them quickly.
7. Inspect The Attic And Basement
You need to inspect your attic at least once a year, and summer is the best time to do that. Look for signs of pests, water leaks, mold, mildew and signs of holes. Also, check your basement for the same. If you find any issues, fix them and if something looks fishy, probe a little further.
8. Check The Furnace Filter
Your furnace also has a filter and cleaning it now would be a good idea. Scrub the furnace filter just before the cold begins. This is due to the fact that if it sets in, it may not be very comfortable. Clean it in summer so you have furnace ready for the next winter.
To clean the furnace filter:
Turn off the power to the furnace
Locate the filter behind the service door
You will mostly have to unscrew a couple of panels to remove the filter
If it's a reusable filter, wash it. If it has a cardboard frame, you'll need to replace it.
9. Check Smoke Detectors And Carbon Monoxide Detectors
Test your smoke detectors and your carbon monoxide detectors to see if they're working fine. Check whether the batteries need to be replaced.
10. Clean Dryer Vent
Clothes dryers can be a fire hazard if they are not maintained properly or cleaned. Cleanse the dryer's vent and exhaust duct from dust or lint that has been collected. If the dryer needs to be serviced, call a professional to do the job.
11. Clean Washer
Washers need a bit of maintenance from time to time. When your washer isn't being used, check the seal between the drum and the door opening. Sometimes there are stains and a build-up of dirt or soil that gets collected there. Wipe it with a solution of bleach and water. Mix ¾ cup of chlorine bleach in a gallon of warm water to clean the seal. Let it sit for 5 minutes before you wipe it off with a clean cloth and leave it to air dry. This will eliminate odors and prevent your clothes from getting stained by deposits that collect inside.
12. Check For Leaks Indoors And Outdoors
While checking for leaks, first check indoors. Inspect your dishwasher, icemaker, washer, dehumidifier, refrigerator and toilet for signs of leaks, cracks or any form of wear and tear. The hoses for these appliances need to be replaced every 3-5 years, but it's always good to inspect them for leaks regularly. If the water pressure from any of the faucets is poor, it's likely to be a problem with the aerator. It's a small quick fix.
Now head outdoors and check for leaks in any faucets outdoors. Check the hose, if there are any small holes, they can be fixed using electrical tape. A small hole in the hose can cause a lot of water wastage.
13. Clean The Baseboards
Baseboards are neglected when cleaning on a regular basis. At least once a year you got to muster up the courage and get on your hands and knees to clean them. Dirty baseboards can ruin the clean and tidy home if they collect dust and grime. All you need to do is take a damp cloth and a little bit of patience to get the job done.
14. Trim Plants & Bushes
The plants in your garden need to be trimmed and pruned so that they stay in shape and don't grow wild. While you're pruning the plants, pay extra attention to the area around the AC unit. The outdoor compressor of the AC is responsible to bring fresh air into the home which requires a decent amount of airflow for it to function properly. So make sure that there's at least 2-3 feet of space around the unit so it doesn't hinder the functioning of the AC.
15. Protect Your Garden Soil
If you have a garden, you need to make sure that the soil in the garden retains moisture during the summer months. Adding a layer of mulch will not only help the soil retain moisture but also fight off weeds and help your plants live healthily.
16. Gutters & Downspouts
You need to clean your gutters at least once a year and if you have a lot of trees around, then twice a year. It's necessary to clean your gutters before Fall, but what the hell? Why not clean the gutters when you're cleaning the exteriors of your house.
17. Prevent Entry Of Unwanted Guest
With the onset of heat come ants, mosquitoes, termites, fleas, ticks and other pests. In order to keep these intruders out of your home, you need to take preventive measures. You need to take care to ensure that pests don't find an entry into your house and make it their home. Here's what you got to do:
Re-caulk your windows to keep ants and bugs out
Seal any holes that you find in walls, the attic, basement or anywhere around the house
To keep squirrels away from your attic, make sure tree branches are roughly 8 feet away from the roof.
Keep the outdoor trash cans sealed tightly to prevent rats and mice from coming in
Get rid of any debris from your yard whether it is twigs, leaves or any junk
18. Paint Touch-ups
Is there been any part of your home where the paint looks faded or is peeling off? Now that the weather is warm and will help dry up the paint quickly, you can give it a touch-up. If you don't know the exact color of paint that has been used for a wall and are unable to identify it, request the paint professional at the local paint store to come out and help you find the right shade.
19. Deep-clean The Garage
The garage needs to be cleaned at least once a year. If not, the place is going to collect junk and dust from all the projects that you work on. Cleaning it and keeping it neat every once in a while will extend its life. But deep-clean it once a year, every summer.
20. Clean The BBQ Grill
Now that you're done with all the hard work, it's time for some fun! Clean up the barbeque grill and get set for the summer.
For a charcoal grill: Empty the grill and dust it. Clean it with hot soapy water and a brush or sponge inside and out. Let it air dry properly before you use it next.
For a gas grill: Close the lid, turn up the heat and let the grill cook for a half an hour. Then leave the grill to cool for half an hour. Sweep the grill using a grill brush. Wipe the outsides with a sponge and a cleaning agent. After that, clear out all the drip trays.
Now that you're all ready for summer, enjoy all your other plans. If you don't have any yet, here are some ways for you to enjoy your summer! Also, to have a stress-free summer, it might be time to renew your home warranty policy. If you don't still don't have one, it would be a good idea to invest in one this year and protect your home!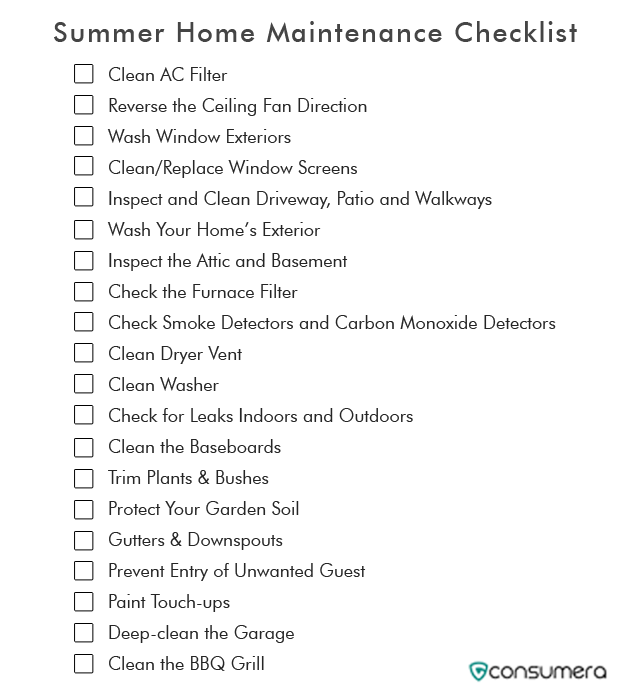 Home Warranty To Protect Your Home
A home warranty policy covers the cost of repair and replacement of major home systems and a number of everyday use appliances. The major home systems include heating, plumbing, electrical systems and more. Most home warranty policies offer their customers the option to add additional appliances to the list of covered items by paying an additional amount.