The Crypto Market Crash. Is There A Need To Panic?
Published Date: June 16, 2022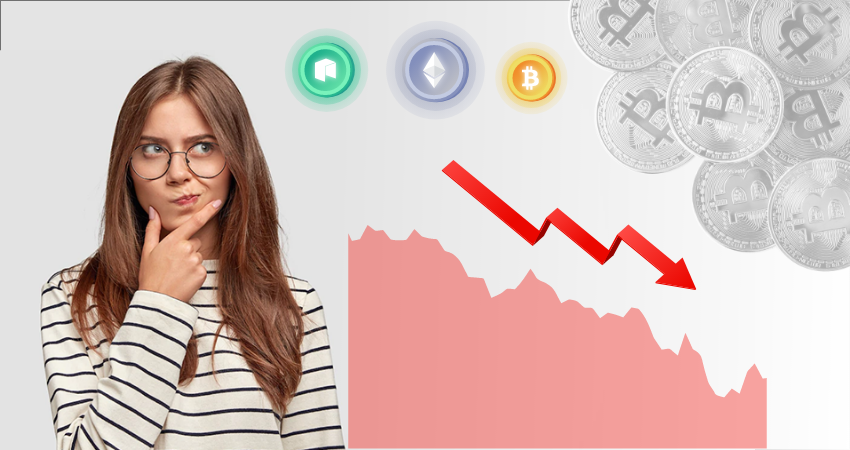 The term that best defines crypto-currencies is volatility. As soon as the rumors, sentiment, or fundamental events are factored into the market, the prices fluctuate, and then approaches a crypto market crash.
Over the last weeks, the crypto market has been in freefall. Fear and uncertainty overtook the market when Bitcoin, the world's first cryptocurrency, dropped below $30,000, reaching its lowest level in 16 months.
This article will lead you through the reasons for a potential crypto market crash, tips to manage the cryptocurrency trading risks, and what to expect from the crypto market in the future. These factors can assist you in lowering the total risk and loss of your investment. Continue reading to find out more!
Reasons For Crypto Market Crash
Investing in crypto-assets can be pretty beneficial, but many factors such as inflation, interest rates, and other macroeconomic variables affect the price of virtual currencies.
Let's take a closer look at a few of these factors —
Inflation, the interest rate hikes by the United States Federal Reserve, and the crisis in Ukraine have pushed up oil costs. Such scenarios impact the market confidence, which has expanded to crypto.
Influencer-induced volatility, crypto fans may tweet to encourage people to invest in a particular cryptocurrency. Elon Musk's comments, for example, had a significant influence on market mood. Dogecoin's price soared due to his tweets, which resulted in an influx of investors. Along with that, Tesla's decision to stop accepting bitcoin payments also resulted in a dip in bitcoin price.
Cryptocurrency regulations, the crypto or bitcoin mining restriction enforced by China, is a great example, driving miners to transfer to more miner-friendly states. Due to this, the network hash rate also decreased significantly. 
Negative flows, As per research, many crypto investors are quitting the well-known cryptocurrencies. More than $100 million of Bitcoin has been traded in the last few weeks. The situation is worse for Ethereum, which has seen more than $150 million in withdrawals, accounting for more than 1.2 percent of the assets controlled by Ethereum.
Is The Crypto Market The Only One To See The Decline?
It is evident that the US stock markets continue to fluctuate with the Dow Jones Industrial Average dropping more than 1,100 points. The S&P 500 closed down 4%, its worst drop since June 2020, while the tech-heavy Nasdaq was down 4.7 percent. So the crypto market is not the only one to experience a downfall. 
How Can Investors Survive The Market Crash?
Even if things may not appear to be going well in the crypto markets, there is no reason to panic. These assets have always been volatile, and similar crashes have occurred in the past. For example, cryptocurrency enthusiasts will recall the 2017 & 2018 crypto market crashes, often known as the Great Crypto Crash. But then the market recovered to all-time highs later. So, investors should keep their money and concentrate on long-term goals. 
However, here are some methods you can follow when cryptocurrency prices crumble:
You must respond calmly regardless of whether you decide to sell your cryptos or consider a drop as a chance to purchase more. Taking emotional judgments, mainly while trading, rarely yields positive outcomes.

If you're not frequently trading, don't leave your coins on a

crypto exchange

, and make sure you're only exchanging 20-30% of your whole portfolio.

Examine the future and how the fundamental circumstances for crypto could play out. Find out answers to, "Will new rules benefit the cryptocurrency market?" and "What other factors may influence the market?"
Crypto, as an asset class, has shown over time that it can provide excellent results, and the recent collapse has taught us that diversification in crypto investment is critical. So, you can opt to deposit money in a crypto wallet; such services are provided by some best cryptocurrency exchanges. Apart from that, concentrate on low volatile currencies, blue-chip coins, SIPs, and adjust your risk tolerance accordingly.
Conclusion
Cryptocurrencies, like any other investment, have a significant amount of risk. Before investing even a dollar, it's vital to be informed on the current state of the cryptocurrency market. We recommend that you thoroughly research market circumstances to prevent losing money in the event of a market meltdown.
Frequently Asked Questions (FAQs)
What Happens When The Cryptocurrency Crashes?
According to studies, most cryptocurrencies now listed on exchanges will vanish. Only digital currencies with well-defined business models and proven usefulness in mainstream culture will be able to weather the storm.
Can Bitcoin Crash To Zero?
Some experts believe that BTC can never crash to zero; however, some state that if stocks keep crashing, bitcoin will be. 
When Should I Sell My Bitcoin?
There is no single plan to carry out this process. However, most people trade their bitcoin whenever there's a surge in its prices. Also, experts advise not to sell all of your assets at once; you can follow a 20-30% selling strategy to get better results.  
Should I Sell My Bitcoin If I'm At A Loss?
To weather financial losses, you can swap your bitcoin for another cryptocurrency; there's no need to sell.
How Long Should You Hold Your Cryptocurrency?
You must maintain the crypto investment for a minimum of one year. However, most crypto enthusiasts hold their assets for decades.
How Often Does The Crypto Market Crash?
One cannot predict the timeline for a crypto crash, but you can look through some factors that can influence the crypto market crash.
What Will Happen To Crypto During The Stock Market Crash?
The cryptos have not been immune to market fluctuations, indicating that it is not as market-insulated as some traders would like to assume. People who hold crypto tend to own equities. 
So even if the asset class is essentially unrelated to stocks, it is tied to investor optimism in the future. 
When Was The Last Time The Crypto Crashed?
In 2018, the world saw a crypto market crash, also known as the Great Crypto Crash, where bitcoin fell by 65% in three months.